Hein van de Geyn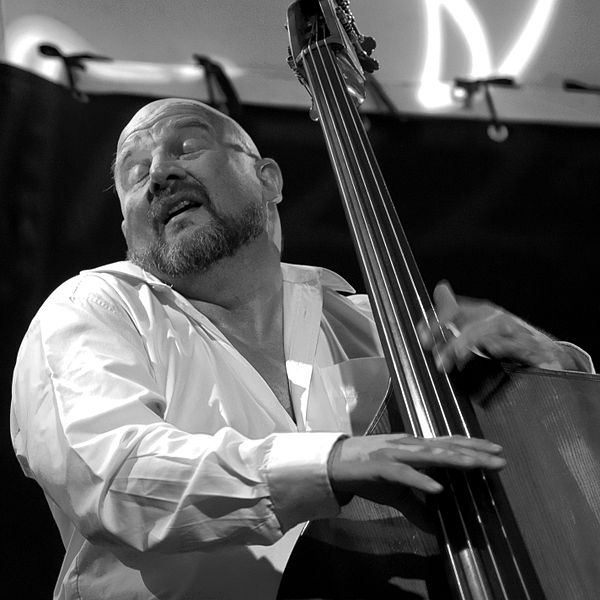 Hein Van de Geyn (born 18 July 1956, Schijndel) is a Jazz bassist, composer and band leader from the Netherlands. He is a critically acclaimed artist and performer, as both as a sideman and solo. Van de Geyn won a North Sea Jazz award in 1998. He was also voted "Best European Acoustic Bass Player" in this year by a referendum by the Belgian radio stations RTBF and VRT. Van de Geyn is also an active teacher of bass and as well as music in general, and he is head of bass at the Royal Conservatory of The Hague.
In 2010 Van de Geyn decided to stop his career as a bassist and he moved with his family to South Africa to run a guest house, and dedicate his life to writing and education.
Van de Geyn has played as a sideman for well-known Jazz artists including Jean "Toots" Thielemans, Chet Baker, Lee Konitz, Tal Farlow and Dee Dee Bridgewater. He also has his own group, Baseline.1
- How did you learn to play the bass?
I started out as a violin player. In my teens I picked up the bass guitar. I did my entrance exam for violin at the conservatory but was admitted as a bass player at the Tilburg conservatory for school music. 

- Which methods were used?
Besides the classical methods I learned for violin, I am mostly self-taught for Jazz double bass. Playing and jamming with others has been a big part of my development. At the end of my school time I went to New York to study there as well.

- What is your opinion about the available methods for Jazz double bass?
I don't consider the books for Jazz double bass to be methods. More like exercises book. Including my own 'method'. I consider my method to be focussing on the physical relationship with the bass. 

- What are the main learning topics for Jazz double bass education?
Besides the topics you collected in your theoretical framework I would say ensemble playing is of the highest importance. That is where you learn to play Jazz. You see, playing Jazz is really like playing soccer; you can't go into a gym with a great and experienced player every week, and expect to be a good soccer player after a few years of doing that. It really is the same with playing Jazz. You learn to play by playing! All the details that are impossible to intelectualize like listening, feeling the drums, using your intuition, trusting your body to do the right thing - having a "feel" for the complete process. All this can only be developed on the field.
- Can you reflect on the changes in teaching over the past 30 years?
Students have lot of information available but find it hard to focus. 

- How did you decide to write your own method?
I was dissatisfied with the exercises I found in most books and started collecting my own. I had an elaborate card system with all kind of exercises. I took a sabbatical for a year and wrote the book while I was in South Africa. I used some of my better students to improve my exercises and discuss different kinds of fingerings.

- What is a good teacher?
A good teacher stands on the sideline and guides the student. He follows the interests of the student. Follows the student's path of development. A teacher should show the doors. I consider interplay to be one of the most important things to focus on. And the physical challenge of playing effortlessly. That your technique does not hinder you in your expression. I will make a study plan each year together with the student to decide where the student and I think the focus should be on. 

Teaching
jazz double bass
in the
21st century
By Tony Overwater